Electronic Medical Record (EMR) Software Comparison Guide (2014)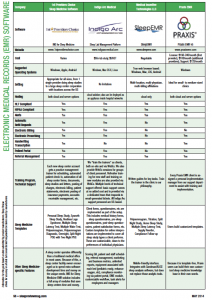 Compare 4 electronic medical records (EMR) software options for sleep medicine side by side. Click on the thumbnail or "EMRComparison" to view the full matrix at a legible size. Sleep Review's EMR matrix compares features such as supported operating systems, sleep medicine templates, and technical support for the following products: 1st Providers Choice Sleep Medicine Software IMS for Sleep Medicine; Indigo Arc Medical Sleep Lab Management Platform; Medical Incentive Technologies SleepEMR; and Praxis EMR v5.

A version of this comparison guide was published in the May 2014 issue. If your company is missing, please e-mail editor Sree at sroy@nullallied360.com so you can be considered for the next update.
Find out about the latest product releases at www.sleepreviewmag.com/products.