SleepMapper—Mobile App, Website to Engage Sleep Apnea Patients in PAP, Improve Adherence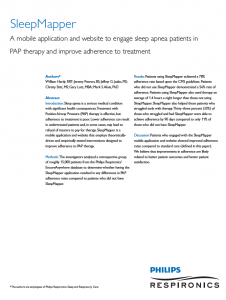 Click on the thumbnail to download your free white paper.
SleepMapper is a mobile application and website that employs theoretically-driven and empirically-tested interventions designed to improve adherence to PAP therapy. A group of obstructive sleep apnea (OSA) patients were analyzed to determine whether having the SleepMapper application resulted in any difference in PAP adherence rates compared to a group of OSA patients who did not have SleepMapper. The results were impressive. SleepMapper also helped patients who struggled early with therapy when compared to the group not using SleepMapper. Details are available in the white paper.