Accrediting Organizations in Sleep Medicine Comparison Guide (2015)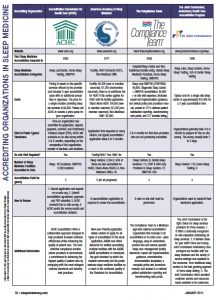 Compare 4 accrediting organizations in sleep medicine side by side. Click on the thumbnail above or on "AccreditMatrix" to view the full matrix at a legible size. Sleep Review's accreditors matrix compares aspects such as costs, timeframe, number of years the accreditation is valid for, and renewal process, for the following organizations: Accreditation Commission for Health Care (ACHC), American Academy of Sleep Medicine, The Compliance Team, and The Joint Commission.
A version of this comparison guide was published in the January 2015 issue). If your company is missing, please e-mail editor Sree at sroy@nullallied360.com so you can be considered for the next update.