Airway Interfaces Side-by-Side Comparison Guide (December 2014)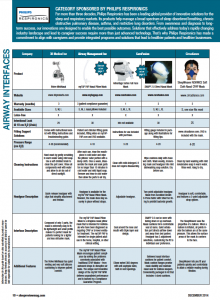 Compare 12 airway interfaces side by side. Click on the thumbnail above or on "Interfaces2014"to view the full matrix at a legible size. Sleep Review's mask matrix compares features such as warranty, available sizes, intentional leak, pressure range, and headgear description for the following products: 3B Medical Inc iVolve MiniNasal, Airway Management Inc my TAP PAP Nasal Pillow Mask, Carefusion Advantage Series Full Face Mask, Carefusion SNAPP 2.0 Direct Nasal Mask, Circadiance SleepWeaver ADVANCE Soft Cloth Nasal CPAP Mask, Fisher & Paykel Healthcare Simplus Full Face Mask, Hans Rudolph Inc V2 Full Face CPAP Mask, Hans Rudolph QUEST HOMECARE Full Face Mask, InnoMed Technologies Aloha, Philips Respironics Nuance and Nuance pro gel pillows mask, ResMed AirFit P10, and ResMed AirFit F10.
A version of this comparison guide was published in the 2015 Product Guide (December 2014 issue). If your company is missing, please e-mail editor Sree at sroy@nullallied360.com so you can be considered for the next update.
Find out about the latest product releases at www.sleepreviewmag.com/products.