Oral Appliance Titration Devices Side-by-Side Comparison Guide (December 2014)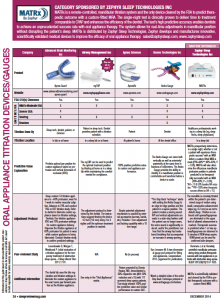 Compare 5 oral appliance titration devices/gauges side by side. Click on the thumbnail above or on "TitrationDevices2014" to view the full matrix at a legible size. Sleep Review's oral appliances titration devices matrix compares features such as titration location, predictive value explanation, and peer-reviewed studies for the following products: Advanced Brain Monitoring Apnea Guard, Airway Management myTAP, Apnea Sciences ApneaRx, Kosmo Technologies Andra Gauge, and Zephyr Sleep Technologies MATRx.
A version of this comparison guide was published in the 2015 Product Guide (December 2014 issue). If your company is missing, please e-mail editor Sree at sroy@nullallied360.com so you can be considered for the next update.
Find out about the latest product releases at www.sleepreviewmag.com/products.
27121 Aliso Creek Rd, Aliso Viejo, CA