Oral Appliances Side-by-Side Comparison Guide (December 2014)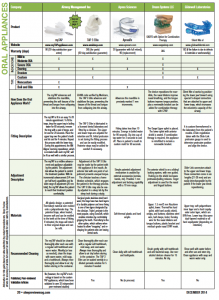 Compare 16 oral appliances side by side. Click on the thumbnail above or on "OATMatrix2014"to view the full matrix at a legible size. Sleep Review's oral appliances matrix compares features such as fitting description, adjustment description, materials, and recommended cleaning for the following products: Airway Management Inc myTAP, Airway Management Inc TAP 3 Elite, Apnea Solutions ApneaRx, Dream Systems LLC OASYS with Option for Combination Therapy, Glidewell Laboratories Silent Nite sl, Great Lakes Orthodontics Ltd Herbst Appliance, Great Lakes Orthodontics MPowRx Snoring and Sleep Apnea Appliance, MicroDental Laboratories Micr02, Myerson EMA, Quali-Som LLC TheraSom Cast, ResMed Narval CC, Respire Medical Respire Blue Series, SML-Space Maintainers Laboratories Lamberg Sleep Well Appliance, SomnoMed Inc SomnoDent Fusion, Strong Dental SUAD Family of Premium Oral Sleep Appliances, and Tomed Dr. Toussaint GmbH SomnoGuard AP.
A version of this comparison guide was published in the 2015 Product Guide (December 2014 issue). If your company is missing, please e-mail editor Sree at sroy@nullallied360.com so you can be considered for the next update.
Find out about the latest product releases at www.sleepreviewmag.com/products.