Home Sleep Testing (HST) Technology Guide (2015)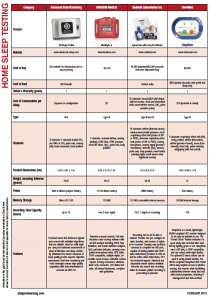 Click on the above thumbnail image to open a large version of the guide.
Compare and contrast 15 home sleep testing (HST) products with our online comparison guide where key features are categorized and compared side-by-side.
Sleep Review's HST matrix compares features such as cost to buy, cost to rent, warranty, and channels for the following products: Advanced Brain Monitoring X4/Sleep Profiler, Braebon Medical MediByte Jr, Cadwell Laboratories Inc ApneaTrak with Easy III Software, CleveMed SleepView, CleveMed SleepScout, Compumedics USA Inc Somte, Itamar Medical Inc WatchPAT Unified, Natus Neurology Embletta MPR PG, Nihon Kohden America Inc Nomad, NovaSom Inc AccuSom, Nox Medical NOX-T3; Philips Respironics Alice PDx, ResMed ApneaLink Air, SleepMed Inc ARES, and SOMNOmedics America Inc SOMNOscreen plus.

This technology guide is generously underwritten by CleveMed.